Take Charge of Your Health: Chronic Conditions is designed to improve the self-management skills of people living with ongoing health issues. Conditions like arthritis, mental health conditions, chronic pain, cancer, or diabetes can cause those affected to lose physical conditioning and suffer health problems over many years. This program teaches new strategies that will give participants the confidence, motivation, and skills needed to manage living with a chronic health condition.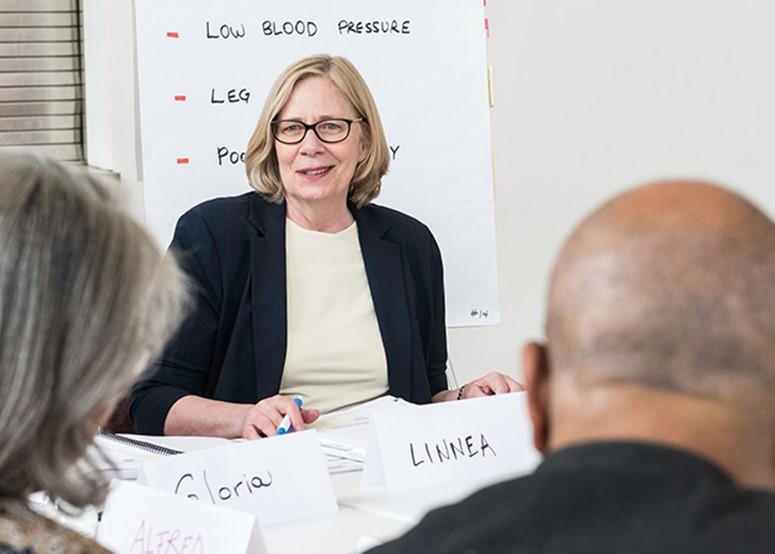 About the class
Duration of a workshop:
Workshops meet weekly for six weeks for 2.5 hours with a built-in break
Workshops meet in person at convenient community or clinical settings OR
virtually (technical assistance is provided)
Topics covered during workshop sessions:
Nutrition and healthy eating habits
Physical activity and exercise
Pain and stress management
Effective communication with family, friends and health care providers
Problem solving, goal setting and many more
"I feel that as I get older, it's harder to stay on track, and your class gave me the chance to think things over and make more good changes."
Patsy
Benefits of the class
Increased energy and less fatigue
Increased physical activity
Increased confidence in managing health
Decreased pain and depression
Less frustration or worry about health
Who should take the class
Adults with any type of ongoing health condition and their caregivers
Adults whose health problems have begun to interfere with daily activities
Adults who have had challenges following health recommendations
Our main focus is for participants who are 60 and over, as well as adults with disabilities, but we're happy to have people of all ages attend. The program has also been beneficial for caregivers of people with ongoing health conditions.
All IL Pathways to Health Classes
Take Charge - Live Well
Prevent Falls
Caregiver Support